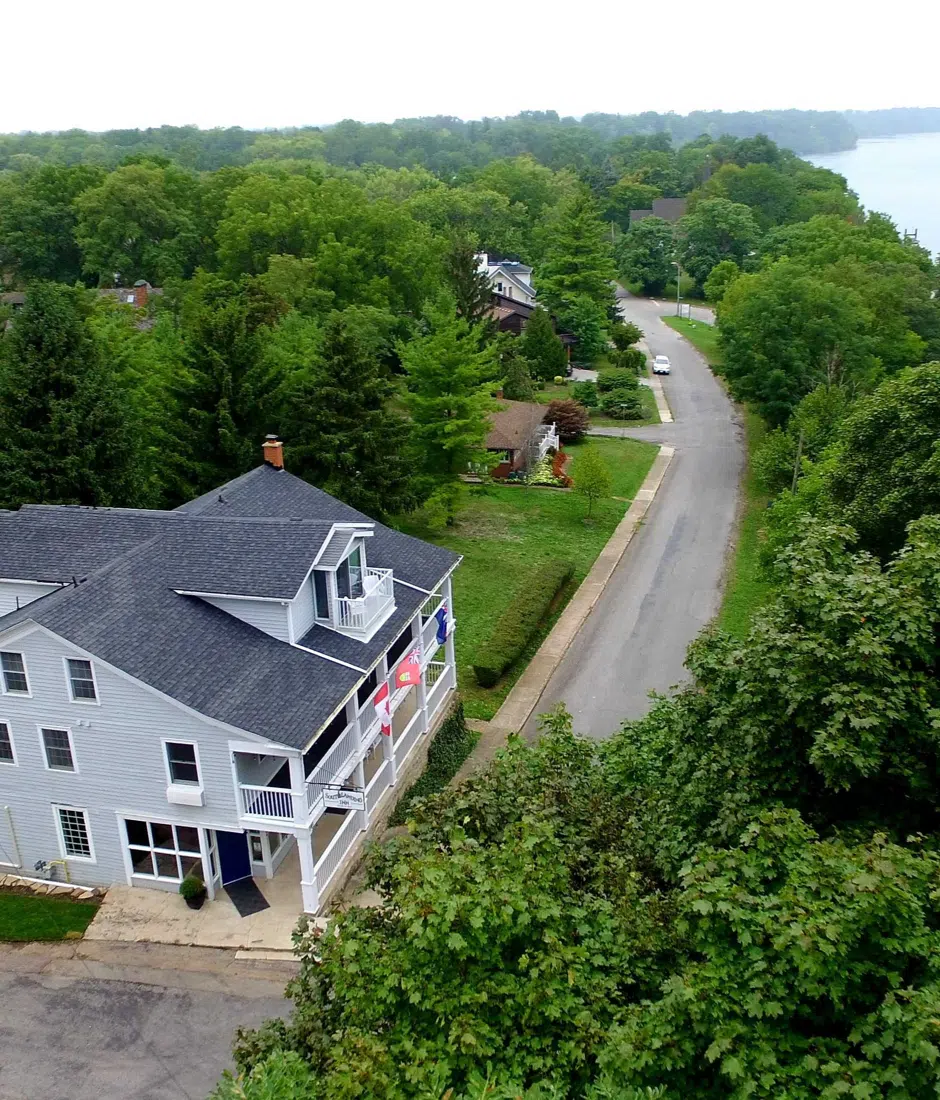 A Chic Eclectic Inn Steeped in History
Nestled in Queenston on the southern edge of the town of Niagara-on-the-Lake, The South Landing Inn was built in the early 1800s and boasts a 200-year history as one of Niagara-on-the-Lake's cornerstone hotels for tourists of the region.
Overlooking the Niagara River, this casual historic inn provides its thousands of guests every year the quiet, unspoiled charm of a chic, eclectic country inn within immediate reach of Niagara Falls and the Niagara region's restaurants, performing arts, outdoor activities, and well-reputed vineyards.
The Rooms
The South Landing Inn has 6 different rooms, each furnished with antiques & Persian carpets, with access to our public patios, balconies, and greenspace. Each room has full access to the hotel lounge, guest pantry, and a small library. We serve a complimentary continental-style breakfast every morning from fresh, local ingredients.
Local Bounty
This planet is beautiful and it is what sustains us and our communities. We thus uphold our responsibility to this earth ​by ​​making informed, thoughtful, and sound ​environmental​ decisions.
Learn how we're taking initiative
The room was gorgeous, clean and bright. Debbie was great and made things so easy, from check in, to accommodating any requests we had, to check out. The coffee, juice and homemade muffins were a great touch: we enjoyed the personalized experience and felt as if we were in a five star hotel somewhere on the east coast!
Such a romantic getaway place!! Beautifully renovated units. Super clean. and the Niagara river is literally right there! Highly recommend!!
My fiance and I visited Niagara on the Lake with another couple and spent one night at South Landing Inn. All I can say is wow! Check in was contactless and efficient which made us feel completely safe and comfortable. The room was well decorated and clean. Newly renovated rooms with high end finishes were beautiful.
Newly refurbished, superb quiet location, great for hiking, wine tours, historical site visits with an easy drive to Niagara Falls. It is located near superb wineries and restaurants. When the Shaw reopens this would make a great place to stay to visit the theatre.
Thanks for a lovely stay and kind hospitality! Perfect spot for a quiet escape from the city and birthday celebration. You have the ideal location to explore the area without the crowds. Beautiful space and hidden gem.